سوالات امتحانی زبان انگلیسی سال سوم نوبت اول
کلمات ناقص زیر را بطور کامل در مقابل شماره های داده شده بنویسید. ( 4 نمره)
The ( bra – n ) can ( rec – rd ) a large ( amo – nt ) of information. It is a ( p – – nful ) job . Your ( aver – ge ) is very low. He can ( re – ember ) in great ( det – il ), objects or ( s – enes ) he has looked at only ( bri – fly ). Several ob – ervations about the ef – ects of TV were ( r – poted ). They said in ( f – ture ) they would watch only (cert – in) programs. ( F – rgetting ) is rapid at first, then slows ( do – n ).
1…………………….. 2……………………..
3…………………….. 4……………………..
5…………………….. 6……………………..
7…………………….. 8……………………..
9…………………….. 10……………………..
11…………………….. 12……………………..
13…………………….. 14……………………..
15…………………….. 16……………………..
با استفاده از کلمات داده شده جملات زیر را کامل کنید.(یک کلمه اضافی است) (4 نمره )
viewers – end – degree – information – memory –
worried – rubbish – improve – ashamed
1. Your English is not good . you should ………………..………..it
2. If you are ……………………..……about your final exams, you should study harder.
3. Housewives are the biggest group of TV ……………..………
4. He is an educated man. He has a university ....................................
5. We need people to clean our streets and take the ………………………away from our houses.
6. I have a weak ………………..... I can't remember the telephone number.
7. You should be …………………… of doing silly things in the class.
8. I don't have enough …………………….. about that new job.
شکل صحیح کلمه های داخل پرانتزها را در جاهای خالی بنویسید. ( 3 نمره)
9. She does everything very well. She is very ………………( care )
10. Gardens are ……………in spring and summer.( color )
11. Banks try to employ ………………….people. ( honest)
12. Do you ………………….think Mina can help you? ( real )
13. Do you know anything about the …………of birds?(migrate)
14. I wanted her to show me the way to the post office, but she didn't ………………..me. ( guide )
جمله های زیر را فقط ب نوشتن یک کلمه ی مناسب کامل کنید(4 نمره)
15. Someone whose job is to grow plants and vegetables and keep animals is called a/an ………..
16. There are two kinds of illnesses, physical and ……………
17. Somethings that you enjoy doing in your free time is called your ……………
18. A person who is traveling in a car, bus, train, plane, etc is a …………………
19. Her name is very difficult. It doesn't ………………in my mind.
20. Education is not an end but a ………………… to an end.
21. ……………….children are clever or stupid, they should be educated.
22. Someone whose job is to grow plants and vegetables and keep animals is called a/an ………..
بر اساس جمله های داده شده جملات ناقص را کامل کنید. (2 نمره)
23. "Where did your brother practice?"
"I don't know where ………………………………….."
24. Is it necessary to stand in line?
Yes, standing ……………………………………………………..
پاسخ صحیح را از بین گزینه های داده شده انتخاب کنید. (3 نمره)
25. It is important for her students ……………… the secret stories of the words.?
a. learning b. learn c. to learn d. learned
26. You should look ……………… your old grandfather when he is sick.
a. for b. at c. up d. after
27. he doesn't enjoy ……………… letters. He can never think what to write.
a. writes b. writing c. to write d. wrote
28. "What is your plan for the weekend?" "I …………..…………..at home."
a. had to rest b. would rest c. am going to rest d. have rested
29. Mary has been asleep for twelve hours. We should wake ………………....
a. him up b. her up c. up him d. up her
30. "When does she travel to Shiraz?" "We don't know when ……………….to shiraz."
a. she travels b. did she travel c. does she travel d. she travelled
با توجه به تصاویر به پرسشها پاسخ دهید(2 نمره)
31. What has made the boy tired?
32. What is the nurse doing?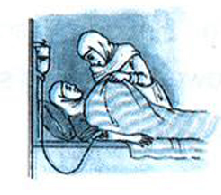 کدام کلمه از نظر تلفظ "s" یا "es" پایان کلمه با سه کلمه دیگر متفاوت است؟ ( 1نمره)
33. a. walls b. boys c. keeps d. farms
34. a. passes b. benches c. writes d. dishes
کدام کلمه از نظر تکیه (stress) با سه کلمه دیگر متفاوت است؟ ( 1نمره)
35. a. myself b. father c. ago d. about
36. a. policeman b. tomorrow c. another d. happy
پاسخ سوالات قسمت A را از بین جوابهای قسمت B انتخاب کنید.( یک پاسخ اضافی است) ( 3نمره)
. A . . B .
37. What is your flight number? ( ) a. He reads story books.
38. What do your friends do at weekends? ( ) b. That leaves at 7:30.
39. What does your brother do in her free time? ( ) c. It's 275.
40. How often do you brush your teeth? ( ) d. They watch TV and play football.
41. I like to write a letter to my brother every month. ( ) e. Twice a day.
42. What time is my flight? ( ) f. There's a show at 7.
g. That's probably a good idea.
با هر گروه از کلمات زیر یک جمله ی کامل بنویسید. (2 نمره)
43. turn – off – is going to – it – he - .
…………………………………………………..
44. washing – dishes – dislike – I – dirty – .
……………………………………………….
با توجه به مفهوم جملات، گزینه صحیح را انتخاب کنید. ( 4نمره)
45. In some countries there are as many as forty TV channels, so in these countries, people ………..
a. have a wide choice b. can't watch different programs
c. must watch all TV programs d. can watch only a few TV channels
46. We don't like his way of life. He is always talking about money. In fact ……………
a. he doesn't earn much money b. money is an end in his life
c. money is a means in his life d. he never likes to keep money
47. Most things are forgotten in the first hour or day after they are learned, but less is forgotten after a week or so. We understand from this sentence that ……..
a. the pace of forgetting doesn't change b. after a week nothing is forgotten
c. forgetting is what we don't learn d. forgetting is rapid at first, then slows down
48. In some villages children are not sent to school because their parents …………….
a. loved educated people very much
b. don't know the value of education
c. believe that education is useful
d. are not polite to them
متن زیر را بخوانید به سوالات بصورت خواسته شده پاسخ دهید. ( 4 نمره)
John came from England to france with his wife one year to find work. He got a good job with a big car factory. As he didn't eat food in the restaurant or smoke, he had quite a lot of money. His wife's parents were still in England and one day she got a telegram to say that her mother was ill, so John gave her some money and she went to England to see her mother.
After a week, John wanted to write a letter to her, but he couldn't read and write very well, so he went to the boss of the factory and asked him to do it for him. John told the boss what he wanted to say, and the boss wrote it down. After a few minutes John stopped, and the boss said," Do you want to say anything else?"
"Only, please excuse the bad handwriting and spelling." John said.
49. Why did John come to France?
50. Did John's wife come to France with him?
51. What did John want to do a week after?
52. John didn't spend all his money. True ( ) False ( )
53. John went to England to see his wife's mother because she was ill. True ( ) False ( )
متن زیر را بخوانید و جاهای خالی جملات را با گزینه های داده شده کامل کنید.(3 نمره)
Ali had an accident last week. He was driving fast when it ……54……….. One of his arms was broken. He was taken to hospital after the ………55…………Two men put him in bed. A ………56………. Came and wrote his name and address. Then a ………57……….came and gave him a kind of ………58………… Ali was there for three days. His parents came to ………59………. Him every afternoon. Ali's aunt and uncle brought him beautiful flowers. He left the hospital on Thursday.
54. a. heard b. happened c. existed d. guided
55. a. event b. scene c. accident d. mistake
56. a. nurse b. waiter c. clerk d. passenger
57. a. viewer b. researcher c. farmer d. doctor
58. a. object b. service c. medicine d. power
59. a. search b. visit c. educate d. examine
موفق و پیروز باشید.